PREVENT PROTECT
CORRECT
ADVANCED SKINCARE BACKED BY SCIENCE
To maintain and improve skin health, an effective skincare regimen must contain three fundamental elements: Prevention, Protection, and Correction. Designed to prevent signs of future damage, protect healthy skin, and correct the appearance of previous damage, SkinCeuticals is committed to advanced skincare products that are backed by science.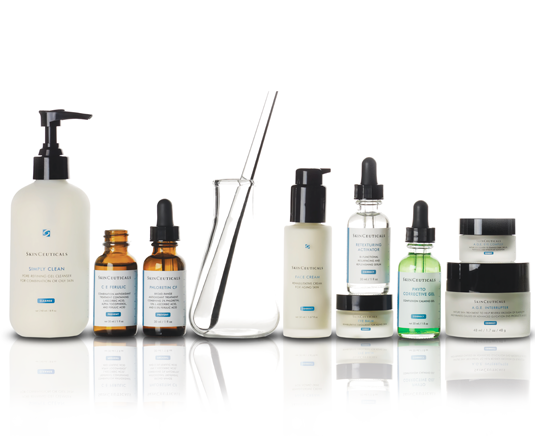 A daily dark spot corrector that targets visible skin discoloration for brighter, more even-looking skin.

A high-concentration pure retinol cream for experienced retinol users to improve the appearance of visible signs of aging and pores while minimizing breakouts

An oil-free face serum that reduces the formation of adult acne, and improves visible signs of aging.

Exfoliating gel cleanser decongests pores, smoothes skin texture, and brightens skin.

Glycolic acid toner to help get rid of clogged pores and remove surface dead skin cells with lipo-hydroxy acid.

This oil-free serum simultaneously exfoliates skin and replenishes moisture for radiant, smooth, skin.

Pore-refining gel cleanses, exfoliates, and soothes normal, combination, or oily skin.

Smoothing exfoliating scrub with hydrated silica effectively cleanses pores and exfoliates to hydrate, soften, and improve skin texture

A concentrated night cream with pure retinol improves the appearance of visible signs of aging and pores while minimizing breakouts

A two-in-one daytime antioxidant serum that provides environmental protection and exfoliation.

Dual-action chemical and mechanical exfoliating cream effectively purifies while removing surface dead skin cells to refine texture, brighten skin, and clear acne blemishes.

High performance clinical regimen to fight acne and aging.